Patrick Bateman, American Psycho [2000] played by Christian Bale, is a great character. Complex, smart, unpredictable.
However, in the scene where he hacked Jared Letos' character, Paul Allen, to bits with an axe. Batemen put on timeless classic 'Hip to be Square' by Huey Lewis and The News, quoting the line:
A song so catchy, most people probably don't listen to the lyrics. But they should, because it's not just about the pleasures of conformity and the importance of trends. It's also a personal statement about the band itself. Hey, Paul!
This really got me thinking.
Conformist. Conforming. Conform. 3 words which pretty negative vibes to them. We understand that Bateman wants to conform drastically, to seem as normal as possible. He also mentions this when Evelyn says to him "Well, you hate that job anyway. Why don't you just quit? You don't have to work." to which he replies "Because I want…to fit…in".
However, as we are not murderous psychopaths and we are only remote, work-hard-play-hard, commit-ophobic sociopaths we'll have a look at this differently.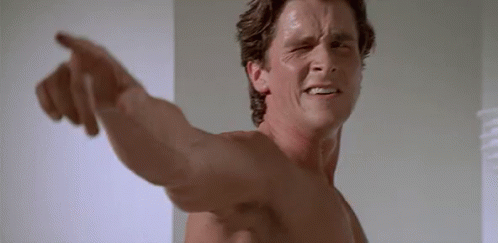 The idea of conforming used to send shivers down my spine. I outright used to say I didn't want a great job, or a big house or a nice car. If I could afford my bills and just enjoy life I'll be fine. Recently though… fuck that shit. I've penned some new phrases I'd like you all to start rolling out and spreading around:
There is no such thing as too much of a good thing.
More is always better.
Money buys happiness.
People hire people, promote people and give pay raises to people who are like them. They won't admit that is true, but psychologically it is just what they do. These people, who are all higher up than you right now, have already conformed. They already caved and straightened up! Done what is expected of them. Do well at work, dress well, get their hair cut, clean themselves sharp. And that is why they're higher than you because their boss, who also did exactly the same thing years ago, hired him. and his boss hired him. And this dates all the way back to caveman times, believe it or not.
Chameleon up bro! Adapt to your surroundings. I did! I talked about this in a previous blog, but if there is one thing that made me cave to conformity, it was being single. I needed a win. and what did conformity give me? WIN WIN WIN BABY! I hit the jackpot! Doesn't matter what makes you finally realise that it's the way to go, and I'm not saying get a job in a company and do that for the rest of your life, god no we all have dreams. But in order to achieve dreams, you need to network. And to network effectively you need to fit in. And to fit in you need to, and let's say this all together, that's right boys and girls; Conform.
And what else is needed to network? A working knowledge of current trends. Music trends, sports, entertainment, science, politics, it doesn't matter what the fuck it is! A working knowledge of trends opens you up to more conversation starters, it opens you up to meeting different people through shared interests, friends or even random conversations. Just like the art of conforming effectively, it makes people feel comfortable around you, and when people feel comfortable around someone they don't mind spending more time with them. And, whether this leads to you scoring that big contract, getting your foot in the door for a job interview or even getting laid! There is absolutely no denying the social science behind the psychology of herds and likemindedness.